Warning: file_get_contents(http://motyar.info/proxy.php?url=http://www.ztrade.gr/quotes/ex/quotes.jsp?ase=0): failed to open stream: HTTP request failed! HTTP/1.1 404 Not Found in /home/vitalfin/public_html/www/modules/mod_stockticker/tmpl/default.php on line 119

Notice: Trying to get property of non-object in /home/vitalfin/public_html/www/modules/mod_stockticker/tmpl/default.php on line 133

Notice: Trying to get property of non-object in /home/vitalfin/public_html/www/modules/mod_stockticker/tmpl/default.php on line 133

Warning: Invalid argument supplied for foreach() in /home/vitalfin/public_html/www/modules/mod_stockticker/tmpl/default.php on line 133

Notice: Trying to get property of non-object in /home/vitalfin/public_html/www/modules/mod_stockticker/tmpl/default.php on line 137

Notice: Trying to get property of non-object in /home/vitalfin/public_html/www/modules/mod_stockticker/tmpl/default.php on line 137

Warning: Invalid argument supplied for foreach() in /home/vitalfin/public_html/www/modules/mod_stockticker/tmpl/default.php on line 137

Technical Analysis
Publisher is the well known blogger and technical analyst "the smart goldfish" Ioannis Deligiannis.
We continue with the updated GI analysis published by Greenbull.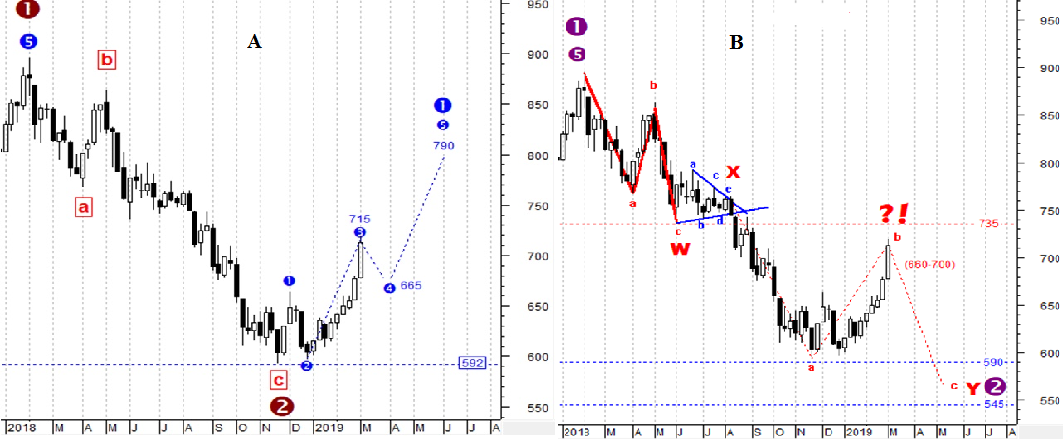 A. The market shows us that from the low of November, 592 points, the new upward movement in its early stages has begun. A medium-term typical development is shown in the diagram above. The target before a mid-term correction is ​​close to 790 points.
According to this scenario, the upward movement (with interim corrections) will bring GI in the long run (in two-year horizons) at about 1200-1400 units the least.
B. The GI has surpassed the 700 units we have set as the expected limit. Given that the 735 units are the extreme rise for wave b, next week the market will have to go down again to complete the last downward c and all the correction 2. Due to the strong upward movement in February they have moved upwards and the expected limits for completing the correction and are now at 545-590 points.
If the GI exceeds 735 points, the scenario is canceled.